Ibiza Town

Ibiza consists of five towns, each more breathtaking than the other. From San Antonio to Sant Josep, deciding which spot to hit can be challenging. But starting from Ibiza Town would be a great idea if you want to explore the White Island in all its glory.
There are so many landmarks to explore in Ibiza Town that simply visiting it won't be enough; you'll have to make it your permanent residence. Fortunately, the city has got you covered there. It has a variety of properties, including beach-facing villas, high-rise apartments, luxury resorts, and more.
Let's learn what else Ibiza Town has to offer:
General Information About Ibiza Town
Area: 11.14 km2
Elevation: 99 m
Official Languages: Catalan and Spanish
Currency: Euro
Population: 133,703 (2023)
Average Temperature: 26°C (August) and 12°C (January)
History of Ibiza Town
Phoenicians discovered Ibiza in 654 B.C., making it one of the first cities in Europe. Since then, many civilizations have settled in Ibiza Town, introducing the cultures and traditions people follow to this day. Because of this, Ibiza Town is on the World Heritage List of the United Nations Educational, Scientific and Cultural Organization (UNESCO).
After the Phoenicians came the Romans, who lived in Ibiza Town from the 5th century to the 9th century. Fast forward to the 16th century, when King Philip II ordered to build a protective wall against the Ottoman invaders. Though it took them 40 years to construct a wall, it played a crucial role, considering Ibiza Town (a different name back then) was frequently visited by invaders.
Getting to Ibiza Town
Ibiza Town is the capital of Ibiza and therefore has its own airport Ibiza Airport. Once you land here, you're free to explore the city in a cab or your own private rental. And if you want to visit the neighboring towns, there are various modes of transport that'll take you to your desired location.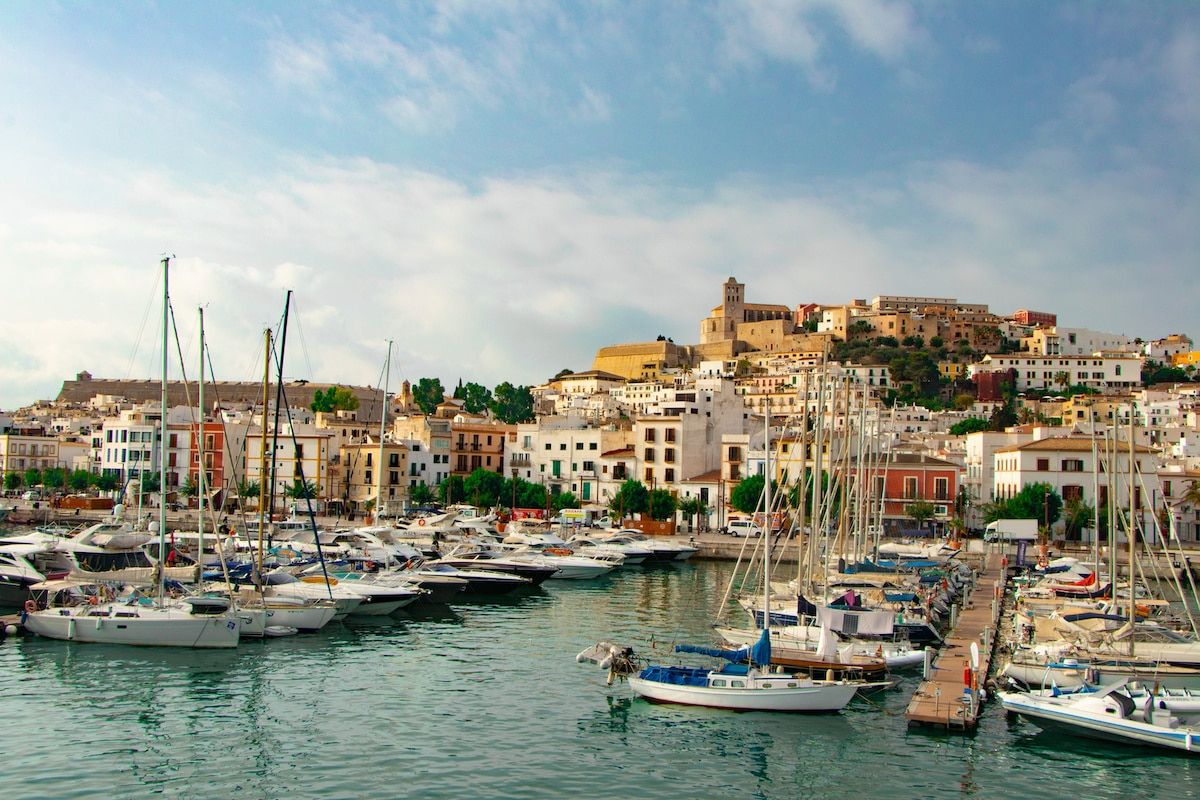 Places to Visit in Ibiza Town
Eivissa, as the locals call it, is the hub for practically each and every visitor. Though famous for its raging nightlife, spending a day in Ibiza Town can be equally amusing. The city's art galleries, history museums, top-class restaurants, small boutiques, and high-end fashion stores are worth checking out.
But if you ask us, we've got a few special spots in mind. For starters, the Port of Ibiza is one of the city's liveliest places, with bars, shops, and restaurants staying open until midnight. You can even take a ferry to see Formentera or Mallorca.
Another spot that should be on your 'must-visit' list is Puig des Molins Museum-Necropolis. Though it's called a necropolis (cemetery), this often-overlooked gem also serves as a museum. Phoenicians laid the foundation of Puig des Molins Museum-Necropolis in the 7th century, whose artefacts are ancient and wonderful.
Last but not least, we have Dalt Vila, the oldest part of Ibiza Town. It's surrounded by castle walls, with cobble bricks beneath your feet. And once the sun sets, make sure to dine at the seafood restaurants, one of Ibiza Town's many biggest draws.
What to Do in Ibiza Town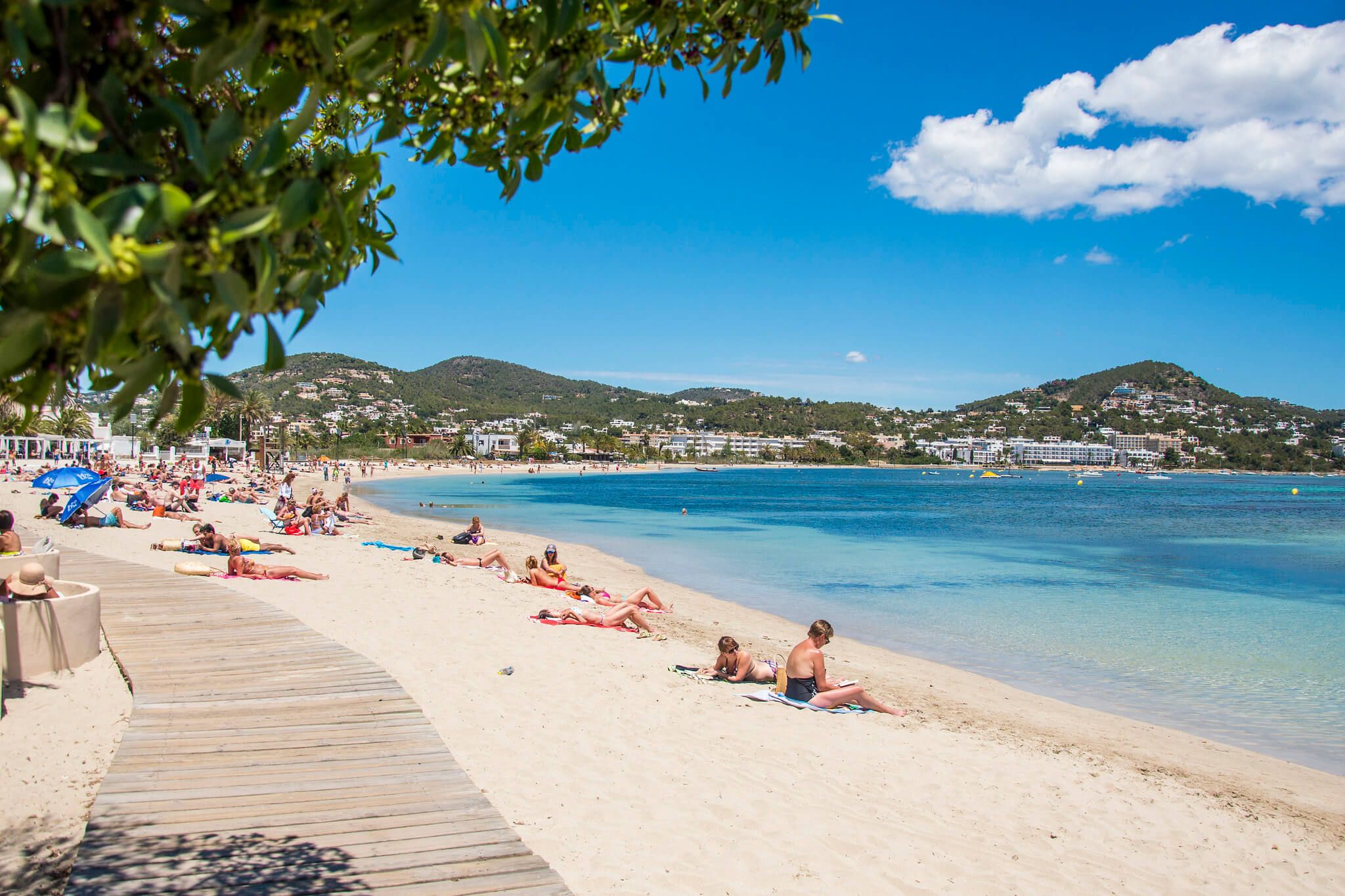 You can't visit Ibiza Town and not get tanned at Talamanca Beach, undoubtedly one of the White Island's most popular beaches. We should warn you, though: Talamanca Beach remains crowded for the most part of the day. But we'll let you in on a secret – Fish Shack, a bay at the end of Talamanca Beach, is less crowded.
If getting sand in your toes is not your kind of thing, rest assured, the hot air balloon ride will definitely take you to cloud nine (no pun intended). It's located a few minutes away from Ibiza Town, but the journey won't be your headache. Instead, you can simply request for pick up and drop off. What's more, you'll be greeted by traditional Spanish breakfast and vine upon touching down – sounds like what they show in romantic Hollywood films, doesn't it?
And for all the adventure lovers, high-octane thrills await you in Ibiza Town. We're talking about none other than quad bike rides. Explore the countryside, beaches, caves, or coves – the options are unlimited.
Let's Get Going
Bike tours? Check. Captivating street art? Check. One of the world's most famous clubs? Check. Ibiza Town is a wanderlust's dream come true. So, you can only imagine what surprises it has in store for those who plan on living here permanently.